Subtle Tattoo on Upper Sleeve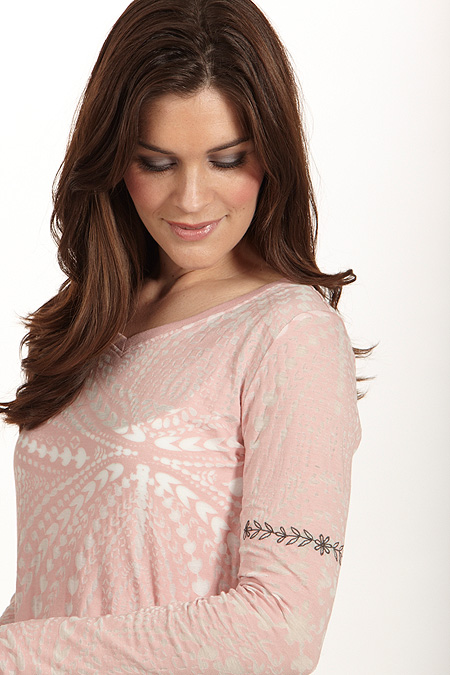 One long sleeve t-shirt
Adhesive water soluble stabilizer
Vine embroidery design
Ball point needle
Use a seam ripper to open the underarm seam from the armhole to about mid-arm.  Open enough of the seam to lay the design area flat in the hoop.  Mark the center of the embroidery design – about 6" below the sleeve cap.
Hoop adhesive water soluble stabilizer and remove the protective paper.  Center the sleeve on the sticky stabilizer keeping the sleeve square to the hoop. Smooth the sleeve onto the adhesive removing all wrinkles and puckers. 
Attach the hoop to the machine and select the embroidery design. Rotate the embroidery design if necessary. Stitch the design. 
Once complete, remove the shirt from the hoop. Release the adhesive stabilizer and trim away as much as possible.  Make a solution of ¼ part fabric softener to ¾ parts water and soak the sleeve area to remove the excess stabilizer.  I usually soak the fabric for about 30 minutes then I place them in the washing machine with like-colored garments and run it through a regular wash.  Remove and dry. 
For more information visit www.dzgns.com .
Featured sewing machine in this segment:

Quattro 2 – 6700D - Sewing, Quilting, Crafting and Embroidery