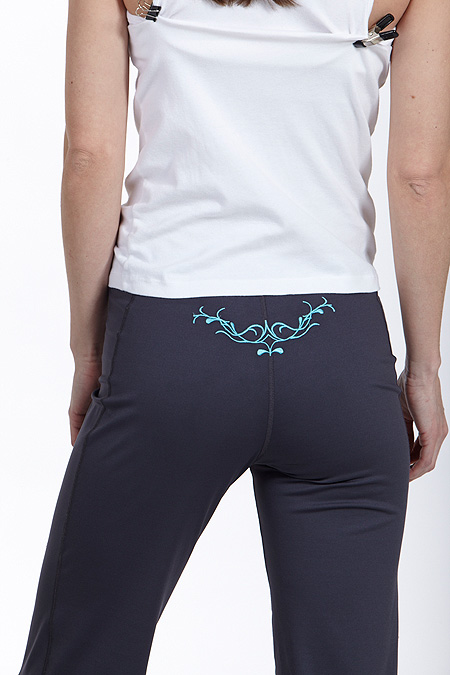 Yoga Pants with yoke area
Adhesive water soluble stabilizer
Polyester thread
Ball point needle
Decide where you want to place the embroidery on the yoga pants. It's best to print a template of the design (any embroidery editing software program lets you go to File/Print) and audition the template on the pants.  Enlist the assistance of a friend and try the pants on to determine the ideal location.  Once you've decided, place a target sticker under the template's crosshair to designate the center of the embroidery design. Remove the template.
Cut a 6" x 8" piece of adhesive water soluble stabilizer.  Remove the protective paper and set it aside.
Turn the pants inside out and put them on. Place the sticky side of the stabilizer on the pants, covering the design area.  This technique keeps the pants stretched while the stabilizer is applied. They will remain stretched during the embroidery process and when worn, the embroidery will lay flat.
Insert a ball point needle into the machine.  Hoop adhesive water soluble stabilizer and remove the protective paper.  If you have a alignment laser, place the hoop under the laser, aligning the hoop's marks with the laser's crosshair. 
Slide the yoga pants over the hoop, aligning the laser with the crosshair on the template. Use the laser to make sure the center back seam is straight in the hoop, it just aligned with the horizontal beam.
Attach the hoop to the machine and center the needle over the target sticker. Remove the target sticker. It's probably best to add another layer of water soluble stabilizer on top of the pants.  Do that now and stitch the embroidery design.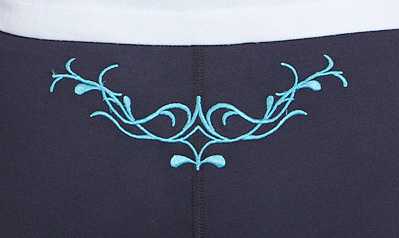 Once complete, remove the pants from the hoop. Release the adhesive stabilizer and trim away as much as possible.  Make a solution of ¼ part fabric softener to ¾ parts water and soak the pants to remove the excess stabilizer.  I usually soak the fabric for about 30 minutes then I place them in the washing machine with like-colored garments and run it through a regular wash.  Remove and dry. 
For more information visit www.dzgns.com .
Featured sewing machine in this segment:

Sewing Machine Featured in this Segment:
Quattro 2 – 6700D - Sewing, Quilting, Crafting and Embroidery