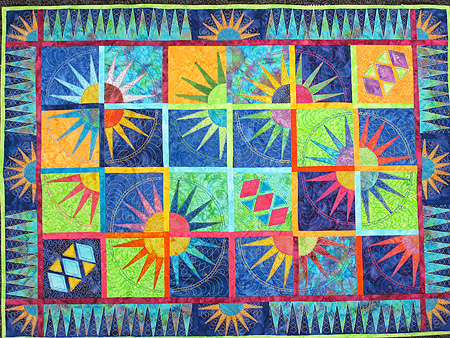 It's all about contrast – the value of the base fabric should contrast with the value of the applique fabrics. If you like your quilting stitches to be highly visible, select a highly contrasting thread for each color sequence. 
For this quilt, cut two (9" x WOF) strips each of blue, dark blue, and lime fabrics.  Make a quilt sandwich with batting and backing on each.  Six 5" blocks will fit on each strip.
When trimming the applique sections, leave ½" on each side of the sun.
Hoop a quilt sandwich: cotton fabric for the back, batting and quilt top cotton fabric. The Lady Liberty block design is from Machine Embroidered Quilting and Applique.http://www.dzgns.com/shopping_cart/index.php?main_page=product_info&cPath=78&products_id=1351
Load the design into the machine.  Stitch color 1, the decorative quilting stitches on the block fabric. 
After completing color 1, lay the applique fabric for the spikes on the block.  Stitch color 2, the outline of the quarter circle and color 3, the tack down of the spikes.
Stitch color 4, the decorative quilting stitches on the spikes.
After completing color 4, remove the hoop from the machine and carefully trim the fabric from inside the quarter circle and the two outer spokes.
Reattach the hoop to the machine. Lay the applique fabric for the quarter circle over the opening in the block.  Make sure the applique fabric extends ½" into the seam allowance beyond the block dimensions.
Stitch color 5, the quarter circle tack down and stipple.
After all blocks are complete, trim the applique fabrics.  On the quarter circles, trim the curved edge.  Leave the excess applique fabric to extend into the seam allowance.  This will help when piecing the blocks together.  On the spikes, hold scissors very close to the stitched tack down and cut away the excess fabric. 
Make as many blocks as you'd like then piece them together using Eileen Roche's reversible piecing technique.
Trim all blocks to 5 ½" square (includes ¼" seam allowance on all sides) and piece.
For more information visit www.dzgns.com .
Featured sewing machine in this segment:

Sewing Machine Featured in this Segment:
Quattro 2 – 6700D - Sewing, Quilting, Crafting and Embroidery