Simplicity Pattern 1913
New Look Workroom by Project Runway 6097
Create your style:
1. Look at all the pattern views and back views, and mix and match components to create the perfect garment.
2. Consider various trims and buttons. Simply selecting a more "glamorous" button or trim, can take a dress from a day dress to an evening dress.
3. Take the time to do a few extra steps to perfect your garment.  For example if you are sewing a knit dress, use twill tape in the shoulder seams to prevent stretching. 
4. Under-stitching only takes a few extra minutes, but is essential for perfecting armholes and necklines that are finished with facings. To under-stitch, follow these simple steps.
1. Sew facing in place and trim and grade seam allowance.
2. Press seam towards the facing.
3. With the right side of the fabric facing up, and the facing and garment opened out  (i.e. the facing is not turned under) stitch close to the seam on the FACING.
4. Turn the facing under and press in place.
Featured sewing machine in this segment:

Sewing Machine Featured in this Segment:
Innov-is 40 Project Runway Limited Edition Sewing Machine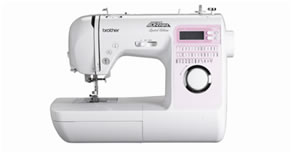 2340 CV Cover Stitch