Want to get your guy to wear embroidered duds? Think subtle.  Most guys are willing to wear embellished clothing as long as it's classy and modern.  A plain, black button-down shirt can be elevated to a designer original just by adding a design to a trendy area.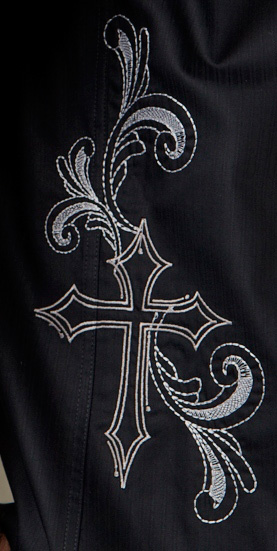 When selecting embroidery designs for men, go for low stitch count designs - etched figures, sketchy motifs, and satin-stitched outlines.  Reserve the heavy fill stitch designs for jacket backs, camping and sporting gear and hats.  Plan on placing the embroidery over the side seam of the shirt.  Print a template of the design from embroidery software and place the template on the garment.  This will give you a heads up whether your design is going to work.  Keep an eye on the scale – too small and it looks like a postage stamp.  Too big and it'll draw attention away from his masculine frame and great smile.  Think of tattoo embroidery as an accent, a complement to his frame.
Iron fusible cut-away polymesh stabilizer to the wrong side of the design area. Hoop the design area. Position the needle over the center of the template or target sticker and stitch the design. 
Once complete, remove the shirt from the hoop. Press the wrong side and release the excess stabilizer from the shirt.  Trim the stabilizer leaving about ¼" around all motifs.
For more information visit www.dzgns.com .
Featured sewing machine in this segment:

Sewing Machine Featured in this Segment:
Quattro 2 – 6700D - Sewing, Quilting, Crafting and Embroidery