Men's Back Neck collar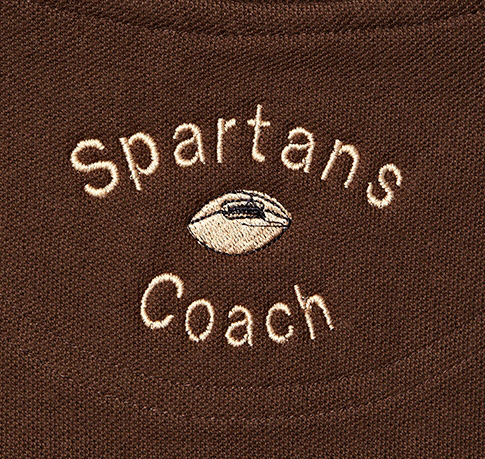 Materials:
One men's polo shirt with topstitched back neck facing
Fusible polymesh stabilizer
Flat magnetic hoop such as Snap-Hoop
Football embroidery design available at iembroidery.com
Built-in lettering on the Quattro 2
Fuse the polymesh cut-away stabilizer to the wrong side of the polo shirt.  Measure 2" down from the center back collar seam.  Place a positioning mark on the shirt in that location.
Turn the shirt inside out and hoop the shirt, exposing the design area and keeping the shirt above the hoop. Nest the shirt around the hoop.  Before stitching make sure nothing is caught under the hoop.
Touch Embroidery Edit and retrieve a football design from the memory or USB port. Touch Set and Add. Select the lettering icon. Select the block lettering style. To spell Spartans, touch the letter S then touch the LMS icon at the bottom of the screen to switch the size of the letter to M (medium). Touch the lower case tab and select the rest of the word, letter by letter. Touch Array and select the convex icon.  Use the sizing keys to set the arc. If you'd like to change the size, do it now by selecting the Size button. Once you're satisfied with the size and arc of Spartans, touch Add.  Repeat the steps above to input and edit the word Coach. Touch Set and Sewing.  Lower the presser foot and stitch the design changing threads as desired.
Remove the hoop from the machine and the shirt from the hoop.  Trim the stabilizer to within ¼" of the embroidery. 
For more information visit www.dzgns.com .
Featured sewing machine in this segment:

Sewing Machine Featured in this Segment:
Quattro 2 – 6700D - Sewing, Quilting, Crafting and Embroidery