DoodleScape Appliqué
Donna Babylon
Donna@MoreSplashThanCash.com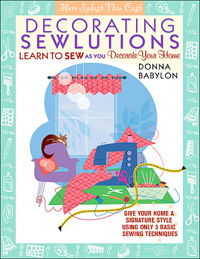 This butterfly appli-doodle is an example of over 10 designs from Donna's newbook, DoodleScape Appliqué. It combines simple appliquéd shapes with "doodled" satin stitches—all shown on wonderful projects for your home. Fun, and super-easy to do, many items can be embellished with this appli-doodle technique. The book is available at your favorite quilt shop or you can visit Donna at www.MoreSplashThanCash.com


Materials Needed
•Assorted fabric for wings— 100% cotton works best, but feel free to experiment with other fabrics.
• Background fabric— cotton solids or prints, denim, broadcloth all make excellent background fabric. The only thing to remember is to select fabric without distinctive and dark designs. You want your doodle to stand out and a too busy background fabric will fight your work. Be the star sewist!

• Thread— Select a good quality thread at all times. For appliqué, select a thread color that blends with the background fabric. For the doodle satin stitches— select a thread color that will stand out in a crowd. Most of the time I use black thread for this purpose. But for a dark background, I use a lighter color for this purpose.

• Paper-backed fusible web—use your favorite brand. I personally like Steam-A-Seam® 2 Lite.
• Erasable fabric marker
• Stabilizer—Use your favorite. I prefer a non-woven tear-a-way.
• Light box—This could be your window on a bright day. Or, it could be as simple as four coffee cans with a piece of plexi-glass over it and a light bulb under the glass. I use (very successfully) a slide sorter that I found in my parents basement. Check yard sales for this important tool.

• Needles— I prefer a Microtex (sharp) size 80 needle. Be prepared to go through them quickly when appliquéing and doodling. Don't hesitate to replace a needle. If you THINK you may need to, do it!!

• Open-toed appliqué foot. Mine is clear and I love it, but  just get a foot where there is nothing blocking your view as you stitch.

• Sewing machine with zigzag stitch capabilities— Experiment to find the width of the stitch you like, and also your tension. You should not see any bobbin thread on the surface of your work. In fact, the top thread "tunnels" around the bobbin thread. All you should see is a thin line of bobbin thread between two lines of top thread.

• Bobbins— Thread several before you start your project. You can use the color of thread in the bobbin to match your background fabric, or you can use white.
• Scissors—Select a pair that makes clean cuts. Choose a size that is comfortable in your hands and that you can manipulate easily around shapes.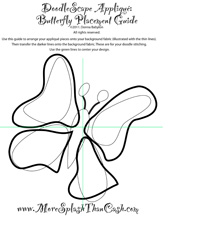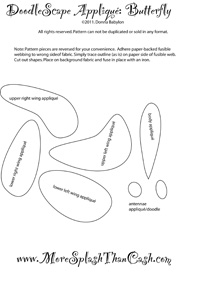 Click on the images for larger printable versions.
Directions
1. Adhere the paperbacked fusible to the wrong side of the appliqué fabric. Trace the shapes onto the paper backing. Cut out carefully with sharp scissors.
2. Tape the pattern guide to the light box and position your appliqué shapes in place. Remove the paper backing and apply your heat source to hold shapes in place.
3. Cut stabilizer to size of your background piece and place against the wrong side of the fabric.
4. Appliqué the pieces in place with satin stitch or straight stitch. I think the satin stitch adds to the design. But it all depends on what look you are going after.
5. Cut all threads from the piece. Keep your piece neat as you continue.
6. Back at the light box, tape your background piece in place. With erasable fabric marker, trace the dark outline shapes onto your fabric. These are the doodle lines.
7. Change thread color if you want. Satin stitch around the doodle lines to create the design. Don't worry if you go outside the line— that's what doodling is all about.
8. When completely finished stitching, remove the stabilizer and use you DoodleScape in a project of your choice.
HAVE FUN!!!!!!!!!!!
Featured sewing machine in this segment:

Sewing Machine Featured in this Segment:
Quattro 2 – 6700D - Sewing, Quilting, Crafting and Embroidery