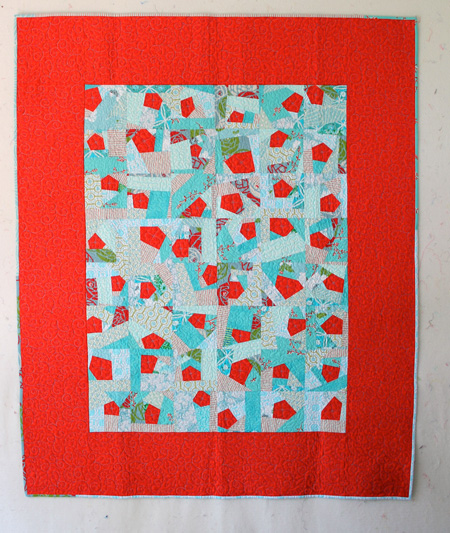 15 minute Made Fabric
By Victoria Findlay Wolfe
A 6.5" block
Materials:
SCRAPS! A nice bag full of a variety of scraps.
Scissors
Cutting mat
Rotary cutter
6.5" square ruler
Iron
Sewing machine and thread
MUST: Set your machine to a SMALL stitch length, 2 or under.
Using a small stitch length is important when making MADE FABRIC. Later when you cut your block to size, you do not want your seams to pull apart so always sew with a small stitch length.
I like to start with a 3 to 5 sided piece of fabric, for this exercise I will start with a 5 sided scrap.
Place a scrap right sides together, not worrying about if your scrap is too big or to little, we can continue to add to it OR trim off after we've sew on after each piece. This will give your MADE FABRIC a nice variety of angles.
Sew following your straight edge, a regular 1/4" seam allowance, trim your seam if needed by placing a ruler over the seam allowance to trim. Sometimes when we add funky cut scraps, we have some extra bits to cut off to keep our seam allowances a nice clean 1/4".
Flip the sewn piece open, and press. Pressing after each piece is added will help keep you seams in the back flat and in all one direction.
Align your next scrap on the next straight edge of your 5-sided shape and continue adding fabrics all the way around your block until you have a piece big enough to accommodate your 6.5" ruler, always pressing after adding a scrap. Once you have made it big enough, press again, and lay your 6.5" ruler on top of your MADE FABRIC, and trim your block to size.
A few notes, Pulling randomly is a fun way to allow discoveries to happen organically, you may find colors and combos that work nicely purely by a happy accident! Follow your instinct, make and be inspired! And remember when you're sewing, if you have to cut off a piece, save it for your next block! 15 minutes a day, of sewing randomly, can keep you connected to your creative process.
For more information visit www.bumblebeansinc.com