Hairline Seams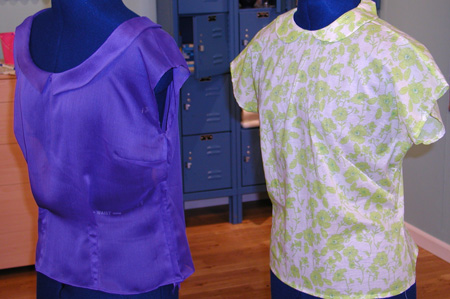 This is an enclosed seam that works well on sheer fabrics. Unlike a French seam, it also works on curved seams. Be sure to make sure you're using an appropriate needle and fine thread for delicate sheer fabrics.
With right sides together, sew your seam using a 3/8" seam allowance.
Fold the seam against the garment so the line of stitching is revealed.
Sew a second line of stitching just to the left of your first line of stitching.
Trim close to your stitching with small, sharp scissors.
Fold the seam allowance against the garment again, revealing your last line of stitching.
Sew a third row of stitching just to the left of your second line of stitching.
Press the seam to one side.
Underlining
Underlining is a construction method that involves using a support fabric in conjunction with your fashion fabric. The purpose of the support fabric can be to provide body, opacity, or to hide inner construction and stitching. Choose a support fabric that has similar drape and weight to your fashion fabric. Muslin, silk organza, cotton batiste, and silk crepe de chine are common underlining fabrics.
Use your garment pattern to cut out the pieces you will underline. Transfer any pattern marks to the underlining.
Cut the same pieces out in your fashion fabric, but don't worry about transferring marks.
Lay the fashion fabric pieces right side down, and put the underlining pieces on top of them, with the pattern marks facing up. Pin the pieces together, making sure the pieces are smooth.
Using a hand needle and thread, baste the underlining to the fashion fabric within the seam allowances. Also baste darts, pleats, or tucks.
Once your pieces are all basted together, construct your garment as usual.
Sewing Machine Featured in this Segment:
Innov-is 40 Project Runway Limited Edition Sewing Machine