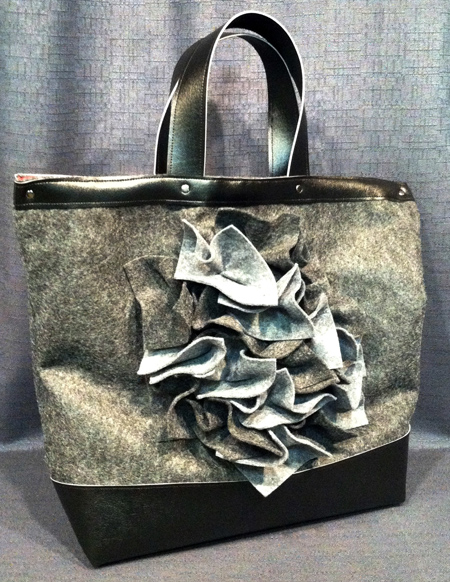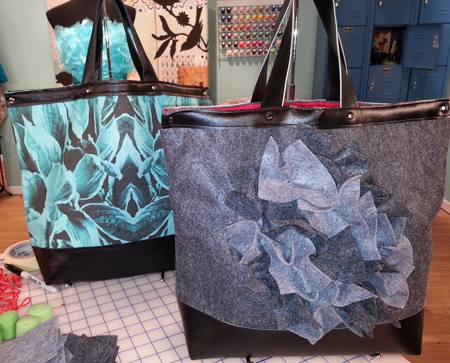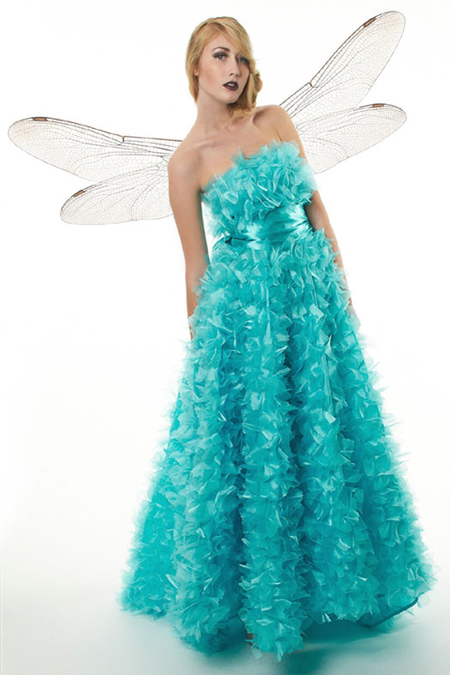 Materials/Supplies List:
½ Yard Grey Heather Felt
1/3 Yard Black Vinyl
½ Yard Red Cotton Fabric
1/8 Yard contrasting Grey Felt
Piece of cardboard for base
Black thread
Red thread
Grey thread
Labels
Scissors
Iron/Ironing Board
Measuring Tape
Pins
36" Yardstick
Pattern Weights
Rotary cutter
24 x 36 cutting mat
Masking Tape
Studding kit and 6 studs
Clips
Teflon foot on machine
Christopher Straub Textural Tote Bag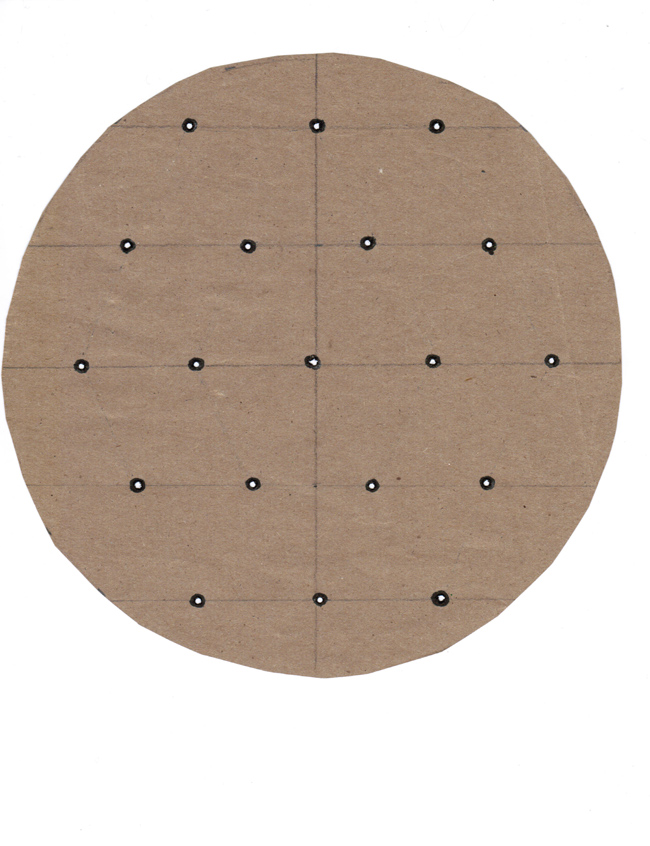 1. Choose fabrics for bag.
2. Cut all pieces according to pattern (PDF)
~Outer layer (heavy fabrics work best to hold the structure of the bag)
~Bag bottom (leather or faux leather)
~Trim and handles (best to match Bag Bottom)
~Lining (Add a pop of color or print)
~Internal binding (Same as Lining)
~Base cover (Same as Lining)
~3.5" x 3.5" petals (Can mix and match colors.  Best to use fabrics that can't unravel)
~Base structure

3. Press binding and set aside.

4. Topstitch Bag Bottom to center of Outer Layer.

5. Sew the handles together

6. Use template to make marks, for petal detail, on outer layer. It's best to stay 3" from top edge and 2" from side edges. Have fun with placement...center design, side design OR do the entire front.

7. Pleat each petal and place on the marks. Stitch in place OR use a stud to hold each petal.

8. On lining, sew on any optional labels and pockets.

9. With right sides together stitch outer layer to lining at top and bottom seams.

10. Turn bag right side out and press top and bottom seams.

11. At top edge, stitch on top of trim while attaching a handle. The handle should be centered with a 4" gap.  After top of trim is stitched continue with the bottom of the trim.

12. Repeat previous step with other side.

13. With Outer Layer together sew side seams from top seam to bottom cutout.

14. Trim seam and sew on binding to finish the side seams.

15. Sew interior corner seams together.

16. Trim seam and sew on binding to finish the interior corner seams.

17. Clip top corners to lessen bulk.

18. Turn the bag right side out.

19. Apply stud to each side at top of bag corners.  2 studs total.

20. Apply stud at junction of handle and trim. 4 studs total.

21. Stitch together base cover leaving opening for structure.

22. Turn base cover right side out and press.

23. Insert structure into cover and topstitch closed.

24. Place base into bottom of bag.

Done!


Sewing Machine Featured in this Segment:
Innov-is VM6200D Dreamweaver XE
With Digital Dual Feed