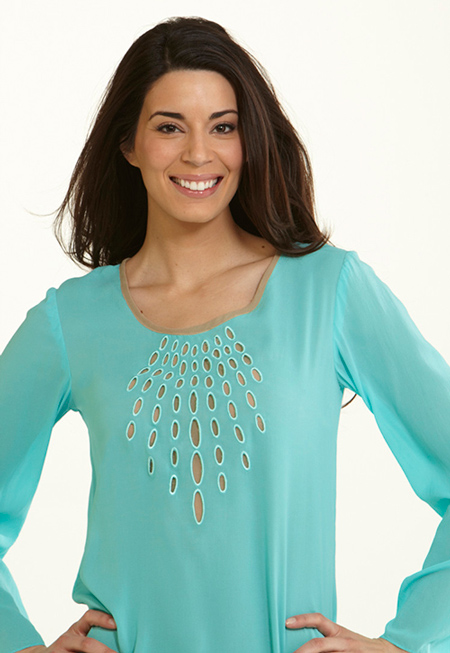 Cutwork Tunic
By Eileen Roche
Materials
Cutwork embroidery design (the design shown on the sample was made PE-Design and is not available for purchase.)
Lightweight tear-away stabilizer
Water soluble stabilizer (mesh-type)
Tunic pattern
Silk or cotton fabric per pattern instructions
Brother PE-DESIGN® NEXT Version 9.2 +CW Upgrade with 4-Needle Cutwork
Many cutwork embroidery designs are available for purchase at www.ibroidery.com
Plan the Embroidery Layout
Open the cutwork embroidery design in embroidery editing software. Print a template of the design and place it on the dress pattern. Make adjustments if necessary.  Trace the pattern on the fabric, cut it out larger than the actual pattern to allow for hooping.
Stitch the Cutwork
Spray the right side of the fabric with liquid starch. Always test.  Hoop the fabric with lightweight tear-away – stabilizer that tears clean leaving little residue. Stitch the design – the baste outline of each opening, and the cutting. The machine will stop when all cutting is complete.
Remove the hoop from the machine and place it on a flat surface. Use a lint roller to remove the small pieces from the fabric right and wrong sides.  Place the hoop back on the machine. Place a water soluble stabilizer, mesh-type, on top of the design. Stitch the final color, the satin stitching.
Remove from the hoop.  Trim the excess water soluble stabilizer from the right side of the garment. Carefully tear the tear-away stabilizer away from the embroidery on the wrong side, supporting the fabric as you rip. Rinse the water soluble stabilizer.
Complete the garment per the pattern instructions.
Sewing Machine Featured in this Segment:
Entrepreneur® Pro PR-1000e